Surely you've seen the horrible pictures of women with black eyes or dogs being mistreated or even hungry children with their hand out looking for food ... No, they're not memes, they're images being shared on your Facebook newsfeed.
Typically the graphic and hard to view images accompany a message with statistics or a website or something and the message will also say "like this picture if you hate [insert whatever injustice is displayed in the image]."
The cognitive dissonance is too much to bear.
There may also be a message about how you can help battle whatever injustice is portrayed simply by "liking" the image. Really? So, I can ensure that whatever injustice is being done will not be done just by liking something?
Talk about easy activism!
Let's get real
Liking an image portraying an abused animal or human in order to show your displeasure is just silly nonsense and you shouldn't be taken a fool.
By clicking "like" on a picture, you're helping propagate that image on your friends' newsfeeds. DON'T DO IT! I don't want to see it and I'm sure most of your friends don't want to see it!
If you really want to make a difference or raise awareness about a cause, be it battered women or abused animals, Facebook is not the place to do it. Go find a cause that's worth joining and volunteering for.
Alice does so much great work to raise awareness about a myriad of causes like Walk a Mile in Her Shoes, or the Animal Protective League. Sure, you can go and like the Facebook Pages for these groups, but that is not doing anything other than keeping yourself updated on the latest happenings at the organization.
You need to get up off the computer and get involved!
Also, if I see another person repost "such and such religious message--if you don't share this, you won't get to heaven," I may de-friend that person. It's like a chain letter gone wild!
Again ... reposting, or clicking "like" doesn't make you a better person. But if you do feel better about reposting or clicking "like," more power to you, I guess.
Time for something a bit different
Speaking of cruelty to animals ... It's cruel to have this sorority girl posting videos of her pups very private moment.
Girl dancing ... dog has dance of its own!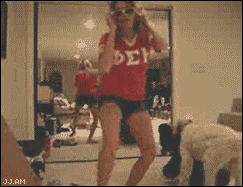 Comments?